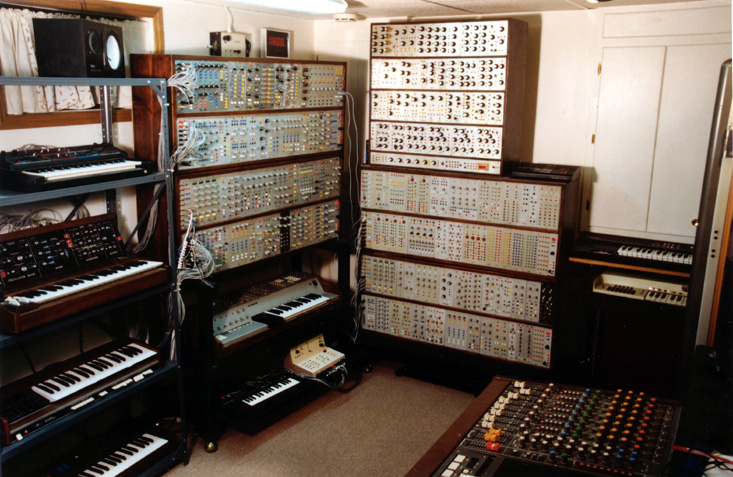 The synth was essentially built in a couple of spurts; the smaller rectangular unit with black knobs was the first one (I did it when I was an undergraduate during the mid-70's); it's a 36-module package with lots of inspirations; some came starting with standard PAIA kits and tweaking them around for better performance, others arose from going through the electronic music literature from the time, and most came from thinking about strange things I could do to control and generate unusual sounds. The other modular cabinets came about mainly during the early eighties; I had lots of ideas left over for novel modules, and all kinds of chips and devices with lots of musical potential were being released at the time (it was too early to do something like this purely in software, and I could use each module immediately after I finished it; each idea was nicely discretized into a finite box).
I also hacked the commercial keyboards that I had at the time so they could be completely accessed by my modular system. For instance, the Mini Moog (middle of cabinet) has 28 cables going into it, so the modular system can access all trigger, control, and audio points in the device; the MiniMoog still can function as designed, but the components are entirely integrated into the modular architecture as well (and voltage levels, etc. are totally compatible). I did the same with my MG-1 (Radio Shack version of the MicroMoog), and Moog Satellite. Even more unusual are the hacks I did to the simple digital keyboards that I had back then (nothing was safe!). The keyboard below the left-hand module cabinets (in the newer photo) is a Casio VL-Tone; I put a full-size keyboard on it, made everything remotely triggerable, and found all kinds of intermediate audio and control signals coming from the internal ASIC that I made available to the outside world (it can make some very un-Casio sounds). Below this is an old SK-1 that I gave a similar treatment to (the unit that interfaces to the modular system from the SK-1 is at right); here I pulled out separate untreated voices and various control outputs. It sounds much more aggressive now... Finally I hacked an old CasioTone 101; the most distinctive part of this operation was pulling all the bits off the internal DAC and mixing them separately with individual adjustments (there's a wonderful universe of grundgy, dynamic sounds available in the softest Casio voices that way...). The Optigan doesn't show up in these photos, but I hacked this one too...
When I use this with my MIDI gear, I've been using a Clarity Midi-CV converter (not really flexible or large enough to be effective) and played a bit with a MIDI interface that I built for Lyle May's 4-Voice system (needless to say, Lyle has this now). I know exactly what I want to put together for this (lots of analog channels slaved to notes and controllers, and plenty of triggers and bits), but haven't had time to put it together yet. Someday....